Lofty-A Rope Grab Fall Arrester to suit FA 20 100 XX | FA 20 100 00B
Buy 3+
£80.75
inc VAT

Save 5%
Buy 6+
£76.50
inc VAT

Save 10%
Buy 14+
£72.25
inc VAT

Save 15%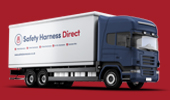 | Delivery Option | Delivery Time | Price |
| --- | --- | --- |
| FREE Standard Delivery | 3-5 Days | £0.00 |
| Next Day Delivery | 1 Day | £6.60 |
Scroll to see more >
Lofty-A Rope Grab Fall Arrester to suit FA 20 100 XX

All ropes supplied separately.


Manual locked position to allow work on inclined roof. Unique non-inverting system to prevent installing the device upside down.


Compatibility: Works on 14-16mm dia anchorage line.


Resistance: 15 kN.


Max User Weight: 100 KG.


Conformity: BS EN 353-2.


Material: Steel

LOFTY-A, Fall Arrester on polyamide twisted rope with a 14-16 mm diameter and an energy absorber.
Works on 14 mm - 16mm diameter anchorage line
- Energy absorber FA 30 000 45 and Steel Karabiner FA 50 101 17 as an attachment element
- Simple opening / closing and automatic locking by a double security system.
- Has a unique non-inverting system to prevent installing the device upside down on the anchor line.
- Has a manual locked position to allow work on inclined roof
EN353-2 :
A fall arrester on flexible anchor line is a device that automatically blocks and stops on the vertical support when the user falls. The anchor line can be a cable (flexible) or a rope (twisted or braided). These flexible anchor lines must be weighted with a counterweight. Breaking strength of these systems> 15 kN.
Documentation & Downloads